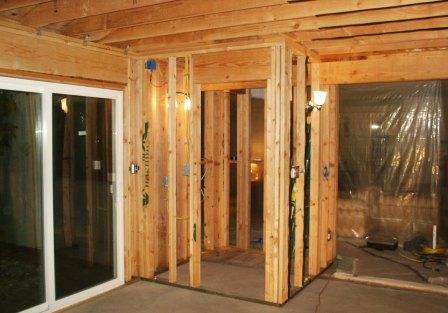 The intent of this page is to give a person who is considering remodeling their home some insight to help them in having a less stressful remodeling experience, and not one of the countless sagas we so often hear when it comes to remodeling.

There are five main points to consider-

Get professional design help

Hire only licensed contractors

Understand the term "design build"

Hiring an architect or professional designer is perhaps the most important step you can take toward having a successful remodeling experience. They will provide you with extensive ideas regarding every aspect of your remodeling project. These professionals are well trained in designing of projects in very aesthetically pleasing ways. Their experience can allow them to see problems before you build potentially saving you substantial cost, or maybe even living with a completed project that is not really what you wanted. These people do not work for free, but as history has proven time and time again, the lack of proper planning is bound to fail you.

One misconception many home owners have when they decide to forge ahead with an ambitious remodeling project is that they will be able to skimp on the cost of a design professional and simply lean on the contractor as a reference for design related concerns. This is a bad idea. Most contractors, including the author here, received while in their tenure as apprentices, journeymen, and foremen exactly zero training in the design process. Instead they were schooled in the codes that applied to their particular trade, not to mention nonstop safety training. Building codes have nothing to do with aesthetics or practicality so perhaps your contractor is not your best bet with regard to design expertise. There seems to be a misguided credence placed in the contractor's ability to properly advise property owners on design related issues. Consider this before you pray at the altar of contractors and their superb advice. The chronology of the average contractor's career goes something like this. Do poorly in high school, and consequently not continue on with any higher education. After jumping from low paying job to lower paying job he finds himself attracted to the relatively high wage of the construction industry. If he attends, and graduates from an apprentiship program it will take about five years, at which time he attains the status of journeyman. After working as a journeyman for some years he might become a foreman. Being a foreman is not a disgraceful position by any means but who can resist the temptation of being a business owner. So off to the State Contractor's Licensing Board he goes. There he will take a test and must get at least 70% correct. This is not a difficult test.

During all this time absolutely no effort was placed on learning how to design anything. Contrary to popular belief there is no hard drive in the contractor's head which contains files with names like "Things to remember regarding the aesthetics of construction and remodeling", or for the mathematically gifted "All of the architectural dimensions of everything I ever worked on".

This being said, most contractors can build very well from a proper set of plans. Try to understand that contractors do not excel at puzzle solving, however most do pretty well at kit building. A kit will come with a detailed set of instructions (plans) whereas a puzzle merely comes with a picture on the front of the box as to what the completed project should look like.

There is a vast difference between these two things and many remodels have gone awry because the home owners did not understand that the unspecified remodel plans their architect drew for them are like a puzzle- because most of the instructions (details) have been omitted. These residential plans will usually contain information which will be required by the municipality plan checking department but will lack in the non-required specifications like style of light fixtures, colors of switches and receptacles, heights of wall sconces, wall mount TV installations, cabinet style, hardwood floor types and colors, ceramic tile choices, molding choices, carpeting, Internet networking, holiday lighting receptacles under eaves, bath towel rod blocking, and many, many more. These details are left out on most residential construction plans because the home owner would balk at the architect's high cost to specify everything. That can only mean one thing- the home owner is left with the daunting task of specifying all of the details, which will take some time, before handing the plans to any contractors for bids. Do yourself a favor and adopt the mentality that you will be telling the contractor what to do, install, and build by way of thorough planning. The flow of design related information should be from the owner or architect to the contractor and not visa-versa. The remodeling experience is a fine example of the "you gotta help yourself " world we live in.

Be sure to hire only licensed contractors and make sure to vet them through your states Contractor Licensing agency. If you live in California go to
www.cslb.ca.gov/
to check out California's State Licensing Board. There you will find many helpful links for such things as checking the license status of a contractor. Another option for checking up on a contractor prior to hiring him is the Better Business Bureau at
http://www.bbb.org/us/
. What you are looking for at the BBB is absolutely no negative remarks regarding the particular contractor you are investigating. This is simple to do but can't be relied upon as proof of his credibility. It is well known that it takes a severe situation for a consumer to resort to reporting a contractor to the BBB. At QLR Electric we routinely hear nightmare like stories about remodels and other construction projects that have gone awry due to poor workmanship done by someone masquerading as a legitimate contractor. Sometimes innocent customers are left with unfinished projects after paying a deposit to one of these unlicensed posers, only to never see them again. Don't let yourself be fooled by one of these lower priced smooth talking swindlers. You will likely regret it. This is not to say that all licensed contractors are perfect business people. If you don't feel comfortable with any contractors you may have talked to, then you might try to get a referral from one of your friends, or a family member. Contractors tend to rely on referrals for a large portion of their work and consequently will be very inclined to make sure that the person who referred the customer to them does not regret it. Referrals are literally like gold in this business.
When hiring a contractor it is good to know the difference between a General Contractor (GC) and a Sub-Contractor (Sub). If you are planning a large remodel, or an addition you will most likely want to hire a GC, who will then hire subs for all work other than framing of the structure. A GC is responsible for the coordination of most aspects of your remodeling project other than the creation of building plans, which is done by the architect. He will schedule the various subs and inspections with skill and timeliness, resulting in your project moving along with as little downtime as possible.

This is not as easy as it may seem and must be considered thoroughly when the owner is pondering taking on this responsibility himself in an effort to save money. Something to consider regarding general contractors is that they are more than likely good at only two things and those are framing- erecting the structure itself - and scheduling.

In some states it is legal for general contractors to perform on any given job two trades other than their forte (usually framing).  Most general contractors are pretty good at framing, but lack greatly in the skills necessary to be proficient at anything other than framing. Knowing this you should hire a general contractor who subs out all of the other trades other than framing. You will thank yourself for this when the job is complete.

Most residential general contractors spend a great deal of time during the course of any given job hearing questions from subcontractors regarding some aesthetic aspects of the job, and without being able to speak for the customer they must relay this simple question to the home owner. Then the home owner must make a decision, relay it to the GC with him then giving that answer to the subcontractor who asked the question. In this scenario the GC becomes a job site trivia relayer. Sometimes these questions are ones that are very simple to answer like 'what color of switches and receptacles does the customer want?, or, 'what model of range is going in the new kitchen?' These simple questions are not difficult to answer, but they mandate the customers input. The answers to these types of questions should be put on materials schedules which we discuss in more detail later in this article. Materials schedules are merely lists of items separated into categories like electrical materials (switches, receptacles, dimmers, light fixtures etc), plumbing fixtures, appliances, door and hardware, among others. These materials schedules save a tremendous amount of time during the job, and can easily be made by the home owner. Most commercial plans include materials schedules where residential plans very rarely do. Let's discuss a few examples of these time wasting and costly exercises in job site trivia relaying.


CA. #835032

(925) 595-5049


Let's say the countertop guy is preparing your new countertop in his shop and he needs to know which make and model of kitchen sink will eventually be installed so he can cut out the correct size and shape of hole for the sink. If you have already purchased the sink, and have it on site, the countertop guy could drive out to your job site and open the box containing your new sink and grab from it the 'cut-out template', which comes with any new sink. That takes time, and must be charged for in some way- usually in the contractor's unit cost for that item. However, if you have created a 'Plumbing Fixture Schedule' the countertop guy could simply refer to it for an answer saving a good amount of time, and some money. See an example of a 'sink cut-out template.'

You are remodeling your kitchen and have quickly gotten to the rough-in portion of the job where the electrician and plumber are putting pipes and wires in the walls. Your electrician will want to know what make and model of range is going to be installed so he can install the correct electrical circuit, and get it put in the right place on the wall so that when all is said and done the range will push all the way back to the wall. Click here to see a manufacturers example of  'Range electric and gas rough-in window' - scroll down toward the bottom and notice how small the rough-in window is for the electrical and gas. This varies from range to range and can not be assumed. If you list your selected range on an 'Appliances Schedule' then your electrician won't need to spend his time, the GC's time, and your time requesting the information he needs to perform his job.

If you are installing under cabinet lights in your new kitchen, and you are supplying them, the electrician will need to know the make and model of the under cabinet lights you want so he can install the correct circuit for them. Some are low voltage and some are line voltage (120 volts.) If you have listed them on a lighting fixture schedule then that is another question that does not need to be relayed through the GC to you and back to the electrician- translates to you save money and time.

If you are remodeling your bathroom it is a good idea to indicate the location where the the towel rod will be installed. The framing contractor will put blocking in the wall at this location so when the towel rod is installed it will have something to be attached to. This is usually left off of the plans and will result in the GC having to ask you about this. This is true for the tissue holder as well. Some tissue holders are recessed into the wall. If the plumber put some of his pipes in the wall where you want your tissue holder to be there will be a problem, not to mention a drywall patch where the tissue holder installer mistakenly cut a hole into your wall.

Throughout the remainder of this article you will realize there are many, many more opportunities for you to save money and time by listing the items, equipment, and specifications for your contractor to use while building your project.

Most general contractors are good people, and have genuinely good intentions, but sadly, due the fact they have spent their entire career in the residential construction business they were never exposed to the more professional way things are done by the commercial and industrial building sectors. Today, most GC's would not dream of having a long conversation with their prospective customer regarding the lack of details and specifications on their plans, much less have any sort of check list for you to use in deciding on all the different elements that will go into your project. There seems to be a common thread among all general contractors and that is they do not want to spend much time talking about the finer details of the job until they get you to sign a contract, and subsequently give them a deposit of some money. The goal of the average GC is to get you to sign a contract quickly so he can get his crew in there and start raking in the cash. He will do this while expressing all the requisite promises of grandeur regarding his, and his crew's, ability to get this job done on time, within budget, and with an ear-to-ear smile on your face. Some GC's will act as though they have no idea the plans are not specified and will consequently drain the customers bank account with costly change orders which could easily have been prevented, or at least budgeted for. The idea here is most residential general contractors have denied themselves a great education by not venturing into the commercial building world where they would have learned a tremendous amount about something called job site efficiency. Plan your project well and you won't waste your money on an expensive job site trivia relayer.